The election of 2017 has been canceled. When Dandvali has finished, "Partha is telling the arrogant arrows, now the war is the same welfare", the heroic heroes call the warriors. For the motherland, for a nationwide land, it can not sleep, the only true Karmaveer is awakened, that is exactly the BJP's representative. The largest democracy in the world is India and the largest political party in it is BJP.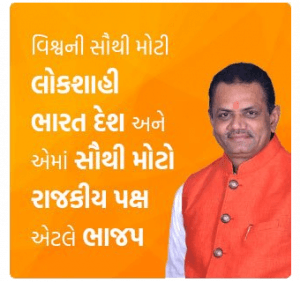 If I want to tell what is the place of activists in BJP, then I give the same example that there is a beautiful body, a good heart, a powerful brain, a kidney liver - the lungs are all healthy, but if the body does not breathe and breathe The body is called budan. Despite all this, there is a system of breathing and respiration in the body. All the workers are the members of the party. On our basis, the party's victory streak is faded. It is our job to set up good governance in order to know the sadness of going to the smallest person, to tear his happiness, to solve his problem, and to establish good governance is being done by our workers, and I am happy that, in the BJP, only to be unshakable, self-centered, sincere and inclined towards his personal selfish ambition and ambition Mother is a dedicated worker of Bharti. If I want to say one sentence to BJP workers, then I would say that it is for Narmada that every Kankar Shankar is in Narmada Maa, its stone Shaligram. Every worker is excellent in his own way. 'Ramji was saying that his monkey is Hanuman.'
You all know well that before BJP was ruling, we could not live peacefully. Frequent storms and curfew, chaos and blindfolded There were no roads, no light, no drinking water or any education system. If you want to study, go out of Gujarat and save yourself, mind, wealth disaster. There was a rising sun from all such chaos and chaos. It is honorable Shri Narendra Modi, who first started the formation of Nutan India, with the enormous work, not only the imagination of Swarnim Gujarat but also the creation of Swarnim Bharat but not with the latest facts. It is a matter of pride for all of us who are getting the guidance of Honorable National President Amitbhai Shah, who are following the shadow of our pride. India, which was being ignored for the last years of India, is going to be reinstated as our rehabilitative leader under the leadership of our Honorable Prime Minister Shri Narendra Modi.
In a single voice of India, all the countries of the world accepted the 21st of June as World Yoga Day. You can imagine, how much our image will be globally globally or all countries accept the country like India. The Chinese who had a gesture to strike and press us when we wished, also agreed with us for peace and tranquility. Pakistan will silence after a physical strike, such a global environment where the bullet train of Japan is going to run from Ahmedabad to Mumbai, and all this is a powerful, lonely and prosperous city of Lord Shiva. Shri Narendra Modi is engaged in all his stakes and is working only in the field of Motherland. Then even ours becomes a duty. This is the moment of waking up for the establishment of such a welfare state for Mother India and to make our future generation's future even more futuristic. So we have given a grand victory of the Bharatiya Janata Party in 2017 by strengthening the hands of the Honorable Prime Minister Shri Narendra Modi for the nation's integrity, security and welfare.
dedicatedˈdediˌkāt